TP-Link - 300Mbps AV500 WiFi Powerline Extender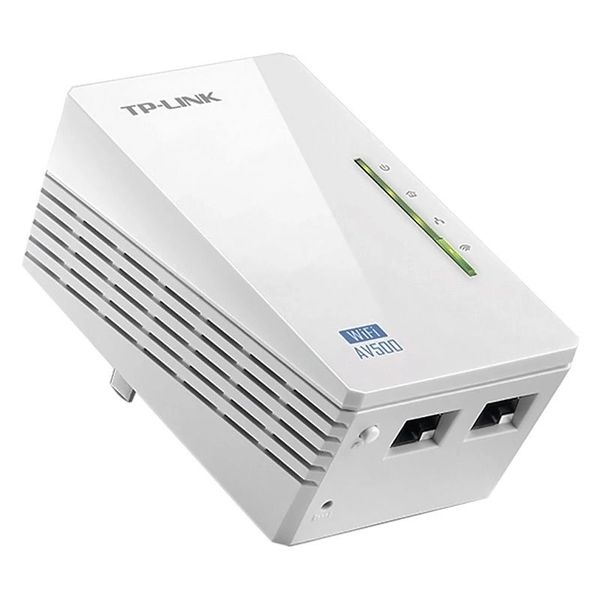 TP-Link - 300Mbps AV500 WiFi Powerline Extender
500Mbps Powerline Datarate, 2 Fast Ethernet ports, HomePlug AV, Plug and Play, WiFi Clone Button, Single Pack by TP-Link®, 984.3 ft Maximum Outdoor Range - 2 x Network (RJ-45).

Technical Information:

Outdoor Antenna Range: 984.3 ft
Wireless LAN Standard: IEEE 802.11n
Wireless Transmission Speed: 300 Mbps

Interfaces/Ports:

10Gigabit Ethernet Port: No
Ethernet Port: Yes
Fast Ethernet Port: Yes
Gigabit Ethernet Port: No
HDMI: No
Management Port: No
Number of Network (RJ-45) Ports: 2
PoE (RJ-45) Port: No
Powerline: Yes
USB: No
VGA: No

Physical Characteristics:

Depth: 1.6"
Form Factor: Wall Mountable
Height: 3.7"
Width: 2.1"

Power Description:

Power Source: Power Supply

What This Product Does. TP-LINK's TL-WPA4220 extends your Internet connection to every room of the house through your home's existing electrical circuitry. The TL-WPA4220 features a Wi-Fi Clone Button enabling Super Range Extension, which means it can automatically copy the SSID and Password of your router. In this way, TL-WPA4220 simplifies your Wi-Fi configuration and allows for seamless roaming within your home network? One Touch Super Range Extension. With a Wi-Fi Clone Button enabling Super Range Extension, the TL-WPA4220 can automatically copy the wireless network name (SSID) and Password of your router at the push of a button. After the pressing the button, you can place the powerline adapter anywhere you want wired or wireless access and enjoy seamless networking across your entire home or office.