Ultimate 16GB UHS-I U3 Class10 MicroSDHC Card Plus Adapter. Amplim Micro SD Extreme Pro Speed 95MB/s Read, 50MB/s Write. HD, UHD, 4K Video Smartphone, Camera, Tablet. Internal/External Storage Memory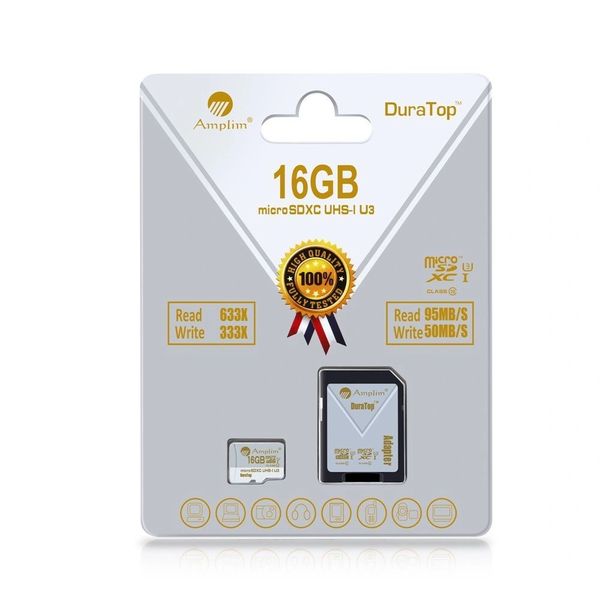 Ultimate 16GB UHS-I U3 Class10 MicroSDHC Card Plus Adapter. Amplim Micro SD Extreme Pro Speed 95MB/s Read, 50MB/s Write. HD, UHD, 4K Video Smartphone, Camera, Tablet. Internal/External Storage Memory
IDEAL For: Premium Smartphone (Android, Samsung, LG, HTC, Nokia, ZTE, Blackberry, Motorola Moto, Huawei) 4K digital DSLR camera (Canon, Nikon, Panasonic, Pentax, Olympus, Sony, Fuji, Leica) laptop / tablet (HP, Dell, Lenovo, Toshiba, Asus, Acer, Mac)

FASTEST MICRO SDHC UHS-1 CLASS 10 U3 TRANSFER - 95MB/s Read, 90MB/s Write: SD / microSD card for active sport 4K Full HD camcorders (Gopro, YI, 360fly, Ricoh, TomTom); Drones (DJI, Yuneec, 3DR, Chroma, Parrot). Warranty void on surveillance systems.

RELIABLE & DURABLE: 100% factory tested premium cards to meet ultimate top quality. New card has around 13GB-15GB (gig) of formatted free space. Format SDHC card using "SD Formatter 4.0" on computer or SDHC device (not old microsdhc/sdhc version)

SDHC COMPATIBILITY: SDHC logo devices. Compatible with Google, Microsoft Windows 7/8/10 and Apple Mac macbook OS. Phones from Verizon, AT&T, Sprint, T Mobile, US Cellular & Unlocked. Secure Digital adaptor bundle.